NEW!

Screening for Perinatal Emotional Distress
Get trained to screen for Perinatal Mood and Anxiety Disorders. This video primer is intended to equip medical providers - who routinely care for childbearing women and their families - with the tools needed to implement education, screening and referral protocols for perinatal mental health concerns.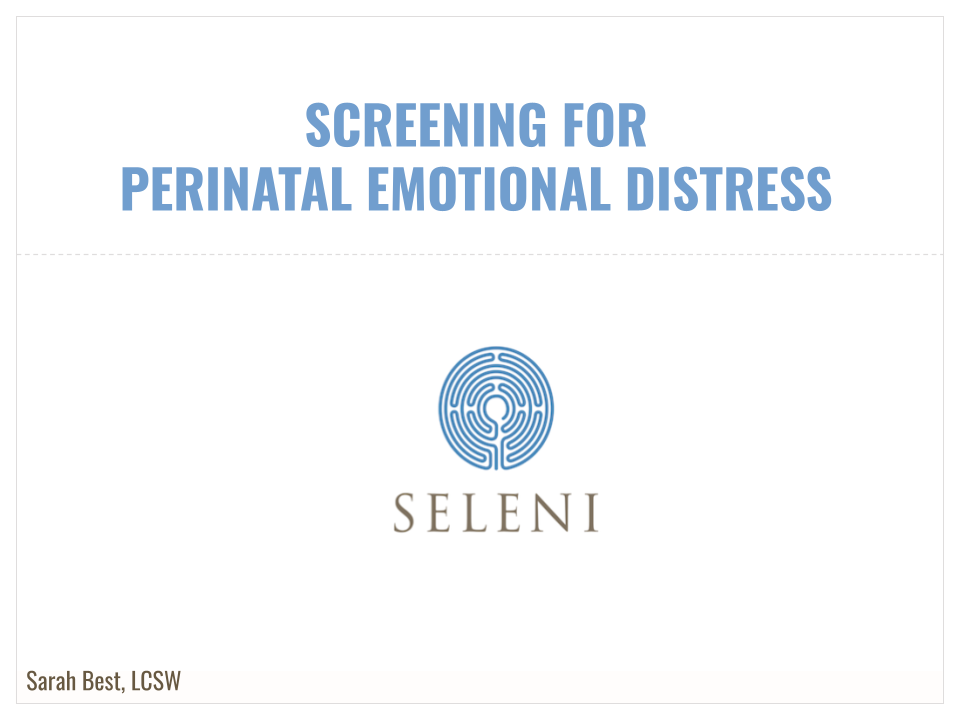 Why is this screening important?
Perinatal mood and anxiety disorders (PMADs), such as postpartum depression and postpartum anxiety, are one of the most common pregnancy-related complications, affecting as many as 1 in 5 new mothers (and those numbers are significantly higher among mothers with low socioeconomic status). We see women daily for these treatable conditions.

PMADs are more common than many other pregnancy-related health problems, including gestational hypertension, gestational diabetes, and preeclampsia. However, unlike those conditions—for which women are regularly screened, diagnosed and treated—PMADs are widely unrecognized and under diagnosed. There are many reasons for this—including little public awareness of PMADs and entrenched mental health stigma—but one critical element is lack of screening in opportune health care settings.

A study published in Pediatrics last September shows the potential impact of postpartum mental health screening. Researchers in the Netherlands studied 3,000 postpartum women receiving well-child care. Of the total, 1,200 participated in standard visits without formal mental health screening, and 1,800 were screened for postpartum depression at the one-, three-, and six-month visits. Those who screened positive for major or minor depression (meaning further evaluation is necessary) received treatment advice and/or referrals to a primary care or mental health provider.

All the women were evaluated for depression at their child's nine-month visit. The women in the screening group were 60 percent less likely to have the condition than those in the control group. They also showed improvement in their anxiety symptoms, confidence as a parent, and general mental health functioning. These findings support the efficacy of standardized screening for postpartum depression at well-child visits.

After a woman's routine six-week postpartum checkup, her child' s pediatrician becomes her primary health contact. Many mothers will see him or her at least eight times in the two years after birth – during the period when symptoms for postnatal mood and anxiety disorders peak.

That time frame gives pediatricians a unique – and powerful – opportunity to screen women for PMADs at multiple times in the postpartum period and to monitor their children for possible negative effects.

Pediatricians routinely ask mothers about risk factors to children's health in the home environment, such as lead exposure, smoking, and car seat use. Untreated PMADs are a risk factor for negative health outcomes in children as well. They increase the likelihood that a child will have impairment of early brain development or cognitive, behavioral or physical health problems. Additionally, mothers experiencing an untreated PMAD are less likely to take their children to all preventative healthcare visits or take preventative health measures such as using car seats.

But when a mother's wellbeing improves after effective treatment for a PMAD, there is a reduction in her child's risk of mental and behavioral health disorders. That's why the American Academy of Pediatrics recommends that pediatricians screen mothers for postpartum depression at routine well child visits (using current procedural terminology code 99420 for reimbursement).

Screening does not require pediatricians to make a diagnosis or prescribe treatment, only to administer a questionnaire and give a referral to an appropriate healthcare provider (such as a mother's primary care provider or a mental health professional or clinic) and then follow up with the mother.

Several screening tools are available online for free. The Edinburgh Postnatal Depression Scale and the Patient Health Questionnaire are the two used most often. Both are brief, easy to administer, and simple to score and interpret. Most importantly, they give pediatricians a powerful tool to improve the health of the whole family.
Your Instructor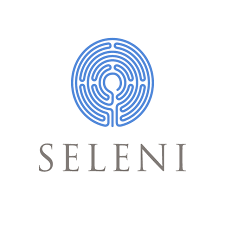 The Seleni Institute is a global non profit that treats, trains, supports, and advocates to improve the emotional health of individuals and their families during the reproductive years.
Frequently Asked Questions
When does the course start and finish?
This course is self-paced.You can begin immediately upon enrollment, and take the final exam when you feel ready. You'll be able to complete the lessons and quizzes on your own time, as your schedule allows, and review content as you like.
How long do I have access to the course?
After enrolling, you will have access to this course for one year, across any and all devices you own. You will be able to access the curriculum, quizzes, and downloads for the duration of the year regardless of when you complete the course.
Is there a way for me to permanently save any course materials offline, for reference in my future practice, and so that I can study for the final exam?
In your course's "What You Can Expect from this Course" portion, you'll find a section titled Supporting Materials which includes all applicable downloadable materials for the course, such as powerpoint slides, original readings, worksheets, and handouts.
I can't log into my account at training.seleni.org.
First, verify that you are trying to log in with the same email address you used to purchase and enroll in your course. If you have confirmed that you are using the correct email address and still can't log in, try resetting your password with this link: https://sso.teachable.com/secure/136076/users/password/new If you can't access the account after following these steps, please email us at
[email protected]
and we will help you fix the issue.
I can't advance to the next lesson.
In order to uphold the learning standards for the professional organizations that have approved Seleni's curricula, our courses require course compliance. This means that: -When you first take the course, you have to complete the lessons in the order that they appear. Once you have finished the course, you can jump between lessons as you like, in any order. -Similarly, you are required to complete the short quiz at the end of each section before you proceed to the next. -Make sure to always click "Complete and Continue" when you complete a lesson, or you will not be able to advance to the next. -Teachable tracks video watching, and requires that users watch 90% of a video before it is considered completed. If you find yourself unable to advance, make sure you have watched the lesson's video completely - it is easy to accidentally skip over a few minutes here and there, but Teachable picks up on when the window playing the video is minimized, or you fast forward! https://support.teachable.com/hc/en-us/articles/360022403191
I'm having technical issues loading the online course materials and streaming the video.
Our learning platform, Teachable, has a great collection of resources for troubleshooting common technical issues that may come up, and a highly responsive customer care team. The majority of technical issues when using Teachable can be resolved by updating your browser, resetting your internet connection, or refreshing the page! Some helpful support articles: https://support.teachable.com/hc/en-us/articles/115000115971-Common-Technical-Issues-Troubleshooting https://support.teachable.com/hc/en-us/articles/360050556251
I scored less than 80% on my final exam and need to retake it.
No problem! Please send an email to
[email protected]
that includes the name of the course you are referring to and the email address associated with your student account on Teachable.